The Crystal Rift is a feature exclusive to the 
iPad version of Monster Galaxy: Zodiac Islands. Here, powerful Mogas that cannot be found anywhere else in the game can be tamed. It becomes available after clearing Aries Island. There is only one area and one quest that constitutes the Crystal Rift arc storyline; however, 24 strong Mogas are up for taming.
According to Morris, the Crystal Rift is a destination of a dimensional warp zone that allows Mogas from the Exile dimension to enter the Zodiac Islands dimension. 
| Area | Energy | Description |
| --- | --- | --- |
| The Crystal Rift | 30 | Home to strange and powerful Mogas from the mysterious Exile dimension. |
There are 24 Mogas available for capture at the Crystal Rift. Their appearances are random and time-sensitive, meaning that they must be captured in a certain amount of time before they leave the area. Each time you enter the Crystal Rift, you will have to defeat 3 Mogas before the desired catchable Moga appears. The Mogas found at Crystal Rift are typically more powerful than those found on the original Zodiac Islands because of their higher rarities and thus, are more difficult to capture.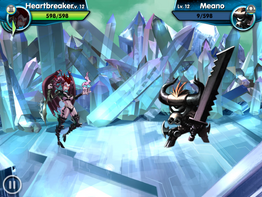 (Note: The list below is very incomplete)
Golerph
Gremlin
Heartbreaker
Meano
Triton
Basilisk
Norm
Reaper
Costrakhan
Soulcleaver
Orville
Angryfish
Shaka
Southpaw
Sandburrow
Archaeon
Bushidon
Lavabob
Juggernaut
| Title | Rewards | Area | Type | Client |
| --- | --- | --- | --- | --- |
| Message from Morris | Blue Coffee x2 | The Crystal Rift | Capture | Morris |
Characters
Edit